Proca
Proca is a digital action toolkit for campaigners which allows campaign actions to be embedded on your website. Proca Widgets can be used for actions such as signing petitions and ECIs, mail-to-target, social media campaigns and more. Supporter sign-ups can be collected and stored securely, actions taken are tracked so you can see what works well, and social media share options can be easily integrated.
WATCH VIDEO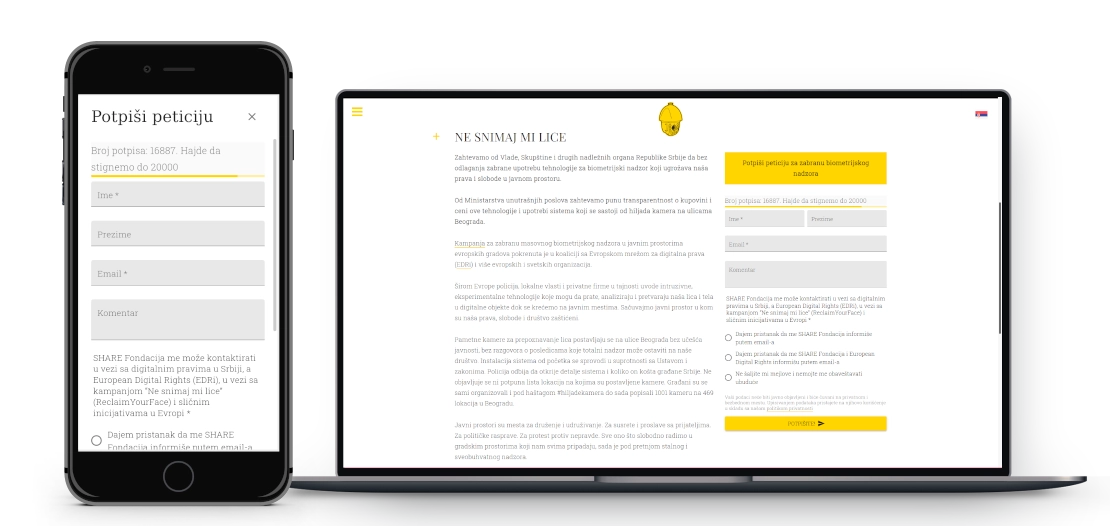 Features
On your website
Proca Widgets are placed using html code directly into your website, whereever you want them to be.
Top Privacy
Supporter signatures and sign-ups can be fully encrypted so that only you can access their data.
Easy to use
Proca widgets work out of the box, easily customisable to your colours
Action options
Users can take a full range of actions: mail2target, social media shares, newsletter sign-ups, donations and more.
Customisable
If there is a feature you want that we don't have yet, we can make it for you.
Perfect for coalitions
Multiple widgets can be made for the same action, allowing one campaign to be hosted by different organisations with split and joint opt-ins for supporter sign-ups.
Testimonials
Couldn't be happier

"We couldn't be happier using Proca. We contacted to get a campaign widget and the next working day we had it ready and integrated seamlessly on our website. Proca ran smoothly and it been one of our fastest growing petitions. Fix the Status Quo are aligned with our values and willing to go above and beyond to support our actions."
A great addition to our campaign toolkit

"It was great to work with Proca on a recent e-action. The tools are really smooth to integrate and adapt and the team were always available to provide good advice and tips. The whole process was very quick and it ensured Corporate Europe Observatory could provide an opportunity for non-German speakers to participate in a major campaign e-action on tax justice. Proca is a great addition to our campaign toolkit."
Highly appreciated effective and pleasant collaboration

"Fix the Status Quo created a secure custom action tool to support signature collection for initiatives and referenda in the Swiss direct democratic process, including integration with our existing CRM System. Highly appreciated effective and pleasant collaboration!"
Very satisfied with the tool

We ran a petition with more than 40 partner organisations in over 15 languages using Proca. We received excellent support from the team and were very satisfied with the tool. I would use it again.
A huge thanks

Together with other partner organisations, we asked Proca to build an open-source tool that could be used by every organisation to enable citizens to engage in a public consultation process at EU level. The tool was very easy to use and the Fix The Status Quo team was very helpful, always there to answer our questions or to make some adaptations. It was great to see people engage easily in the campaign and to help us collect so many signatures. We definitively wouldn't have been able to reach such a high participation without the tool!
Super easy to use

We used Proca for a campaign to submit responses to an EC feedback
mechanism. It was super easy to use and embed, I didn't even need our
tech person and could do it all on my own.