Proca is a digital action toolkit for campaigners which can be used for a whole range of campaign actions. By copying and pasting a single line of code, you can embed the widget directly on your website. Supporter sign-ups and social media sharing is integrated too, and we track actions taken so that you have the data to see what works well. You can read more about Proca here.
Proca has distributed actions made easy by design. An organisation can easily invite partners to join their campaign with their own widget with a common and aggregated action but separate supporter data collection. Supporters can choose GDPR opt-in options of the lead and partner organisation, or the partner organisation only, or no opt-in. Collected data is held separately and securely so that only the organisations opted into can access it. You can read more about how Proca makes coalition campaigns easy here.
Campaign Actions Available
Here is a list of the different actions which can be done on Proca.
Remember: these are fully customisable and modular. The particular action can be customised, such as which fields are included, and a widget can include multiple parts, such as campaign action (eg Petition), supporter sign-up and a prompt for social media share.
Petition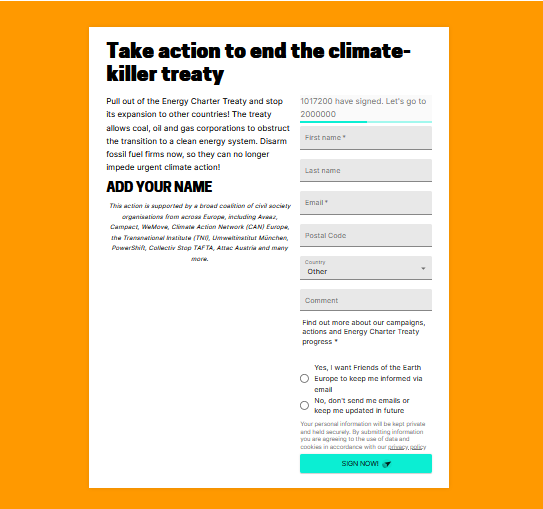 This can be a "register" action of any kind, collecting a number of people who put their name to a statement or request. The fields which are include can be customised, such as country, postcode, phone number, last name or postal code.
Currently over 25 languages are available and we have optimised for participation by pre-filling the country based on IP address. A progress counter can be included and supporter data can be encrypted at rest.
Share campaign on social media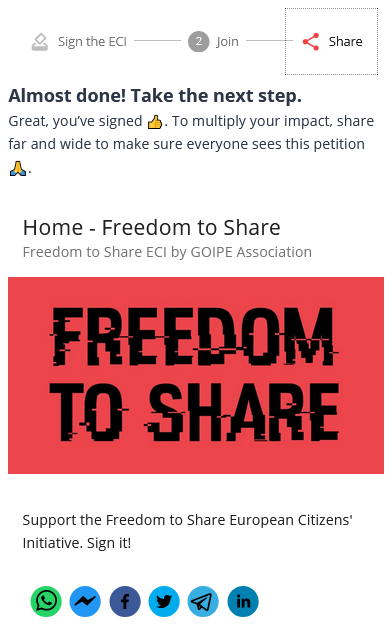 This can be the campaign action itself, such as creating a Twitter storm or a Tweet-to-target campaign, or it can be a prompt to supporters to share a link after they have taken another action. We have integrated all of the main social media platforms which can be integrated, and the text suggested to the supporter can be easily customised by you.
Through UTM tracking, you can see not only how many people shared but how many people took part as a result of someone's share, giving you more granular data about how the campaign spreads on social media.
Donation (Stripe, Paypal, SEPA)
Proca can be used to collect donations stand-alone, or this can be integrated as part of a widget with other actions, such as asking for financial support after someone has signed a petition.
ECI (openECI)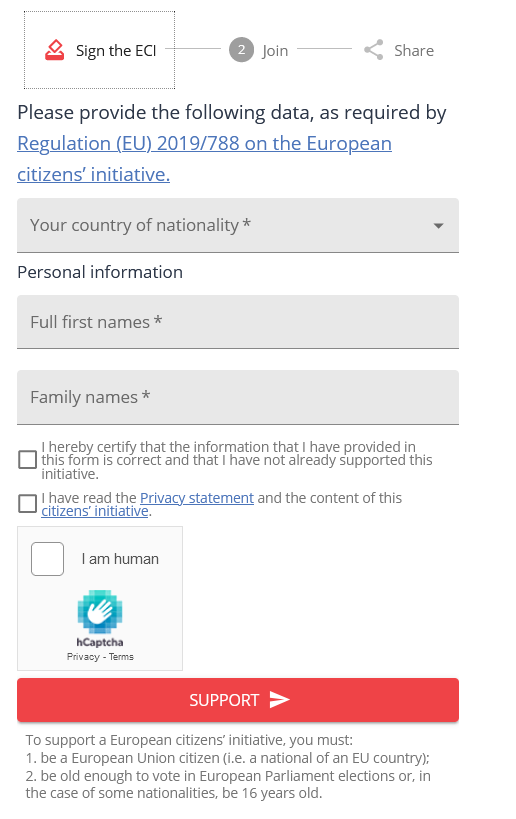 Proca widgets can be used to collect signatures to support a European Citizens Initiative. This is typically integrated in a widget with supporter sign-up and social media share options, but it can be stand-alone. As part of this, we conduct a security audit and get the ECI server certified by the German authorities (BSI).
Swiss Initiatives
Proca can be used to collecting support for Swiss citizens initiatives. This process includes generating a PDF for the supporter to print and sign, which is pre-filled with their information and responds to their zip code. The PDF includes a QR code so that when it is scanned by the organiser, it is automatically matched digitally with the supporter data from the widget.
Tweet to target(s)
A particular version of the social media share in which the widget prompts a tweet to a particular target or targets. The widget can include the target(s) name, picture and Twitter bio for supporters to select one or multiple of.
Tweet to MEP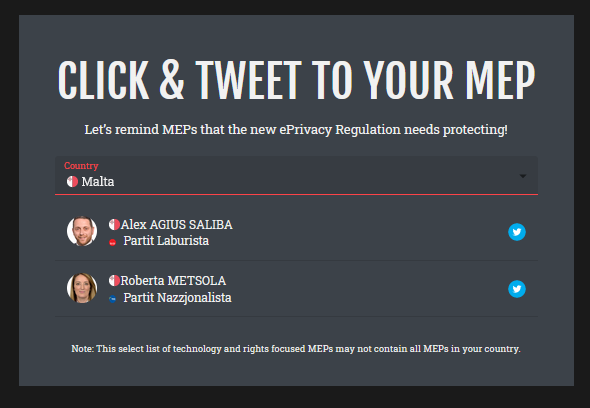 With a built-in list of all MEPs, supporters can be prompted to tweet their representative based on their location, which can include suggested content. This can be the full list of MEPs or it can be filtered to include a sub-list, such as members of a particular committee or excluding certain parties.
Mail-to-target (by supporter's email client)
Mail-to-target campaigns can be run using Proca by prompting an email using the supporter's email client. The supporter clicks 'send email', and this causes their email client to open with the target's email address in the 'To:' field and pre-filled subject line. Because the email comes from the supporter's own email client, mass emails are much harder to evade.
Mail-to-target (email on behalf)
Mail-to-target campaigns can be run using Proca which send an email from within the widget without the supporter having to do anything else.
Mail to MEP
Proca has a built-in list of all MEP contact details, so supporters can be prompted to email their MEP based on their location.
Open Letter
Proca can be used to collect signatures for an open letter, allowing for secure and distributed collection embedded on a website.
Coming in the future: Phonecall-to-target.